Image edited by adrian038
Call for Submissions:
Food for Art – Express what we eat
Deadline: February 1, 2023
Apply Now
Calling all foodies who paint, sculpt, film or take photos!
We love taking pictures of food with our phones. Now Toronto has the exhibition dedicated to artistic expression of food!
Food for Art is a food-themed art exhibition event that connect our love for food with our desire to express inner thoughts and emotions through artwork. As residents of a multi-cultural city, the exhibition's initiative is to celebrate diverse cultures, recognize social issues, and broaden our horizons. We can highlight simple beauty of cooking, appreciate food suppliers and essential workers, show interconnection between cultures, or even bring to attention food insecurity. And such powerful statements can be made with your artwork.
We invite submissions for visual arts – painting, photography, sculpture, installation and so on. As long as the artwork depicts the subject matter of food, cooking or eating, artists can explore any themes they desire, whether moral, philosophical or political.
All visual artists in the Greater Toronto Area and nearby regions are welcome to submit their work. Selected artworks will be showcased at Remote Gallery in Toronto, Canada (568 Richmond street West, Toronto, ON, M5V 1Y9) between April 14 and 21, 2023. Number of submissions will be limited to one for each artists. There is no submission fee.
If you have any questions, please reach us at foodforartexhibition@gmail.com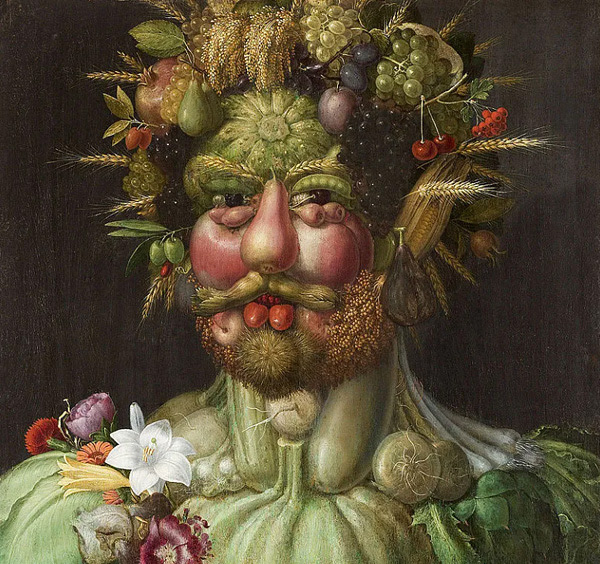 Vertumnus by Giuseppe Arcimboldo
Eligibility and Guidelines:
Region: Call is open to Greater Toronto Area and nearby regions where artists can travel to the venue for installation.
Art categories: Artists working in any visual arts are welcome to submit their work. Painting, sculpture, fiber art, textile art, photography, drawing, installations, collages and so on are accepted. Media art (digital, interactive, etc) that requires AV can be accepted if artist can install AV setup for the exhibition.
Fees: There is no submission or selection fee.
Size: The size of artworks must not exceed 10' in height or width.
Installations: If selected, artists are responsible for installing and de-installing their artworks for the exhibitions in a timely manner.
Submission photo: Please submit a photo showing only the artwork without anything else in the frame. The photo file size may be up to 100 mb, and must be in JPEG file. Artist may be contacted for additional pictures or a video of the artwork.
Sales: Selected artworks must be available for sale. Artists must also provide contact information to be displayed below their artworks.
Rights: Artists must own the rights to their artworks submitted to Food for Art.
Submission limit: Please limit one submission per artist.
Allowed contents: Artists are welcome to express with their artworks their feelings and ideas toward the subject matters involving food. Artists can explore any themes they desire. Artworks including sensitive contents such as cruelty, nudity, violence and so on are allowed. However, artworks containing offensive contents won't be accepted.
If you have any questions, please reach us at foodforartexhibition@gmail.com
Key dates:
Submission deadline: February 1, 2023
Notification for selected artworks: February 19, 2023
Installation for selected artworks: April 13, 2023
Exhibition: April 14 – 21, 2023
De-installation: April 22, 2023
Accessibility information: www.akincollective.com/remoteaccessibility
About the Curator:
Michael is an emerging filmmaker based in Toronto, Canada. He has made several short films including 'A Wish,' 'A Helping Hand,' and 'A Losing Game,' which dealt with irrationalities of human minds through time, space and memory. He also ran a foodie group, for which he regularly organized dining events at restaurants to sample diverse food cultures in Toronto. With his love for visual arts and food, Michael founded Food for Art to bring together artists of various disciplines to express, celebrate, or even make a statement, about anything food-related.