TOAF 2022 at Nathan Phillips Square. Photography by Shane Fester.
62nd Toronto Outdoor Art Fair – Call for Nonprofits, Collectives and Artist-Run Galleries
July 7-9th 2023, Nathan Phillips Square
Application Deadline: March 7, 2023 @ 11:59 PM EST
Toronto Outdoor Art Fair invites visual arts and fine craft collectives, nonprofit galleries and artist-run centres from across Canada to submit proposals to exhibit and sell the works of their artist members. Showcase and promote your mission and reach out to a new audience of 150,000+ visitors in a limited number of community booths alongside over 300+ individual artists during the 62nd Fair this July 2023.
Who can apply?
Artist Collectives
Artist-Run Centres and Galleries
Visual Arts Nonprofits
Visual Arts Guilds and Groups
Many organizations and art collectives have taken advantage of this opportunity to showcase their membership and promote their mission including La Guilde, Amazing Moss Park Art Collective, Propeller Centre for the Arts, Toronto Potters, Scarborough Arts, Tangled Arts + Disability, F8 Photography Collective and Creative Works Studio.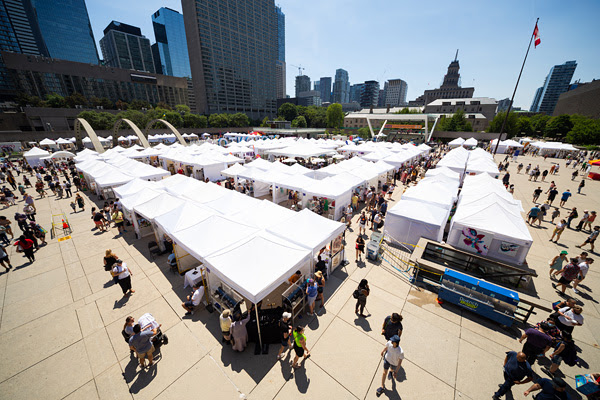 TOAF 2022 at Nathan Phillips Square. Photography by Shane Fester.
What does TOAF offer?
Unprecedented visibility: Develop new audiences at Canada's best-attended outdoor art Fair
A far-reaching marketing campaign: Benefit from TOAF's multi-platform local and national marketing and promotions.
Onsite & online support: Capitalize on a wide variety of support, including a robust team of onsite volunteers, online portfolio tips and professional development workshops.
What does it cost?
Onsite & Online
10×10′ Booth: $1,750
10×20′ Booth: $3,000
Online Only
$500
How to Apply
Submit all materials as a single PDF to info@torontooutdoor.art by March 7, 2023 at 11:59 PM.
Proposals must include:
Mission and mandate of your organization/collective (max. 300 words)
Statement of Intent/Curatorial Vision: How this opportunity is a fit for your organization, how it will advance your mandate or benefit your members (max. 750 words)
A booth image/visual representation of your proposed installation at the Fair (If applying for in-person)
Full names, website URLs and one image for each artist who intends to participate in your booth (6-11 artists)*. Ensure each image is captioned with dimensions, medium and name of the artist
Contact information for the organization's representative
*You can only put forward names of artist members who do not plan to apply as individual artists for the 62nd Toronto Outdoor Art Fair in 2023.
Go to TOAF.ca/nonprofit-artist-run-galleries to see all the details.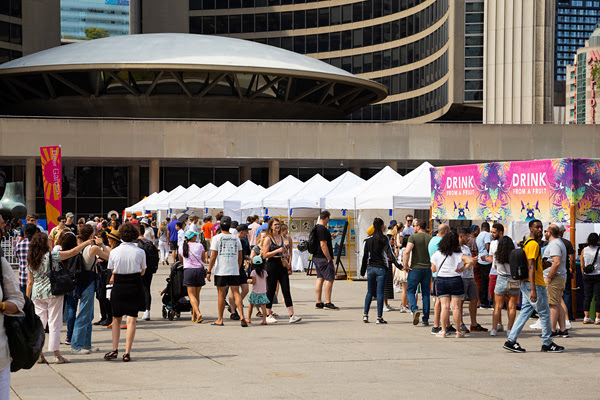 TOAF 2022 at Nathan Phillips Square. Photography by Shane Fester.
About Toronto Outdoor Art Fair
Toronto Outdoor Art Fair (TOAF) is Canada's leading contemporary, juried, outdoor and online art fair. Founded in 1961, the Fair was established to put visual artists and makers in direct contact with the public and nurture artistic excellence and entrepreneurship. For 60 years, TOAF has been instrumental in launching artists' careers and bringing art into people's everyday lives. This free public event has showcased 350+ visual artists and makers and attracted 150,000 visitors to Nathan Phillips Square each year. The Fair continues to connect artists and art lovers through year-long showcases, income generation and discovery opportunities for independent artists. The Toronto Outdoor Art Fair is a registered charitable nonprofit organization.
416-408-2754 | info@torontooutdoor.art
TOAF.ca | INSTAGRAM | FACEBOOK | YOUTUBE