Tyler Angell Photography, courtesy of The Bentway.
Call for Applications:
The Bentway Artist Residency: Dance in Public Space
Dance has a long-held relationship with public space. Artists have often looked outside traditional theatres and studios for the site-specific contexts and immediacy of encounter that public space offers. Over the past three years, we've seen outdoor urban spaces blossom as vital sites of dance practice. For artists working in public for the first time, there are many considerations, learnings, and possibilities that come with making and presenting in the urban public realm.
The Bentway Artist Residency is an annual, self-directed onsite program focused on advancing creative research and experimentation around a specified project theme or approach that responds to the features and/or functions of The Bentway Phase 1 site.
This year, The Bentway has teamed up with Toronto Dance Theatre to create a residency opportunity dedicated to dance in public space. The 2023 The Bentway Artist Residency: Dance in Public Space invites three (3) artists with a focus on dance, movement, and/or embodied practice to participate in a three-month, open-ended, and research-based project that furthers their practice, provides learning opportunities with dance and public art practitioners; and in turn, contributes to the evolution of The Bentway as leading a creative movement to re-imagine the opportunities of urban spaces.
The production of artwork and/or a performance is not central to the program or required. However, each residency project is expected to create meaningful opportunities for community engagement and feedback through the presentation of ongoing research, or any combination of research and culminating artwork and/or performance, in a public forum. Residents are encouraged to consider the lasting legacy of their work and the ways it can deepen the impact of visitors' experiences, understandings, and connections to The Bentway in years to come.
The Bentway Artist Residency: Dance in Public Space aims to:
support dance, movement and embodied practices through independent site research in order to investigate our relationships to public space and spark new connections and understandings;
embed professional development and learning opportunities in partnership with local organizations for residents to further cultivate their practice in the public realm;
expand audiences through inclusive and thoughtful community dialogue, public presentation, and participation in the resident's research and experimentation.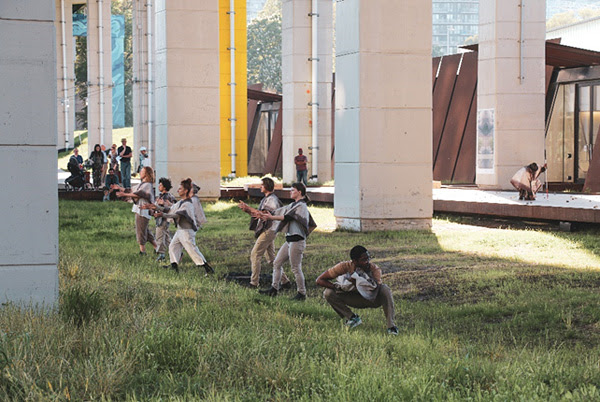 Dérives by Noémie Lafrance. Photo by Wei Qi, courtesy of The Bentway.
Residency Support and Timeline
Residents dedicate a minimum time commitment of 12 hours per week (or equivalent) working at The Bentway, which includes access to onsite space; institutional and production support, professional development, and learning opportunities through program partnerships. A monthly stipend of $1920 is provided towards project development and weekly site research, in addition to a designated production budget available to support public engagement activities, materials, and any culminating presentation costs, as applicable to the residents' research and project needs.
Key Dates
Onsite Information Session for prospective applicants: Saturday, December 3, 2022 1pm-2:30pm. SIGN UP NOW
Online Office Hours for prospective applicants: Friday, December 9, 2022 Noon-1:30pm
Application deadline: Monday January 9, 2023 at 11:59 pm
Review Committee deliberation and selection: February 2023
Residency period: June 1 – August 21, 2023
Optional public presentation opportunity: September 2023
Eligibility and Selection Overview
Applications are open to early-career, individual artists in the Greater Toronto Hamilton Area with a focus on dance, movement, and/or embodied practice seeking an opportunity to explore and create within this dynamic public space.
The Bentway is committed to fostering a supportive creative environment that promotes equity, diversity, inclusivity, and access. Applications from persons with disabilities, Indigenous and racialized persons, women and individuals of diverse genders and sexual orientations, and equity-deserving groups are strongly encouraged.
The methods of exploration, approach to research and community engagement, commitment to collaboration, and the ability to respond to the site with innovative interventions and experiments will take priority during application review and selection.
Resident selections will be decided by a review committee of experienced art, design, and cultural professionals whose career practices include and consider dance, movement and embodied practices, public art, community-centred practice, creative placemaking, as well as members of The Bentway's Art Advisory committee.
How to Apply
Complete applications must be received no later than 11:59 pm on January 9, 2023 to be considered. Apply Here!
Application Components:
A completed online application form including CV (PDF format, maximum 3 pages)
Examples of Work (maximum 3)
Letter of Support from a person familiar with your artistic practice
For information about submitting an application, sign up for the online session.
Notes
All submissions are considered confidential.
The submission of this application does not guarantee selection.
The successful applicants will be notified by the end of February 2023.
Should you require further clarification, have any questions, or require accessibility accommodation please email hello@thebentway.ca.
Photo by Nick Lehoux, courtesy of The Bentway.
About The Bentway
The Bentway works to ignite the urban imagination, using the city as site, subject, and canvas.
Anchored under Toronto's Gardiner Expressway and guiding its complex future, The Bentway is a growing public space, and much more. The Bentway is a new type of civic organization: an independent charity and a not-for-profit , powered by vital partnerships with the City of Toronto, residents, supporters, artists, creatives, city-builders, and dreamers. The Bentway is a catalyst rooted in experimentation, demonstration, and regeneration; leading a creative movement to re-imagine the opportunities of urban spaces.
Phase 1 of The Bentway – under the Gardiner from Strachan Ave to Fort York Blvd – opened in 2018 and is already a vital public space, backyard park, cultural platform, connector for the western Waterfront corridor and a demonstration of what is possible.
Visit thebentway.ca for details about The Bentway's programming and activities; and follow on Twitter, Facebook, YouTube and Instagram. #publicspace #urbanideas #TOBentway
About Toronto Dance Theatre
TDT is the legendary artistic home and collaboration hub where, since 1968, curious creators, ensemble performers and audiences inspire each other to create and celebrate new explorations of dance – playful to provocative, from near and far – that reflect our times, our diverse cultures and communities. Ever fresh and adventurous, TDT is one of Canada's leading innovators in contemporary dance while being one of the very few dance companies in the country with an ensemble of dancers. Visit tdt.org for details.